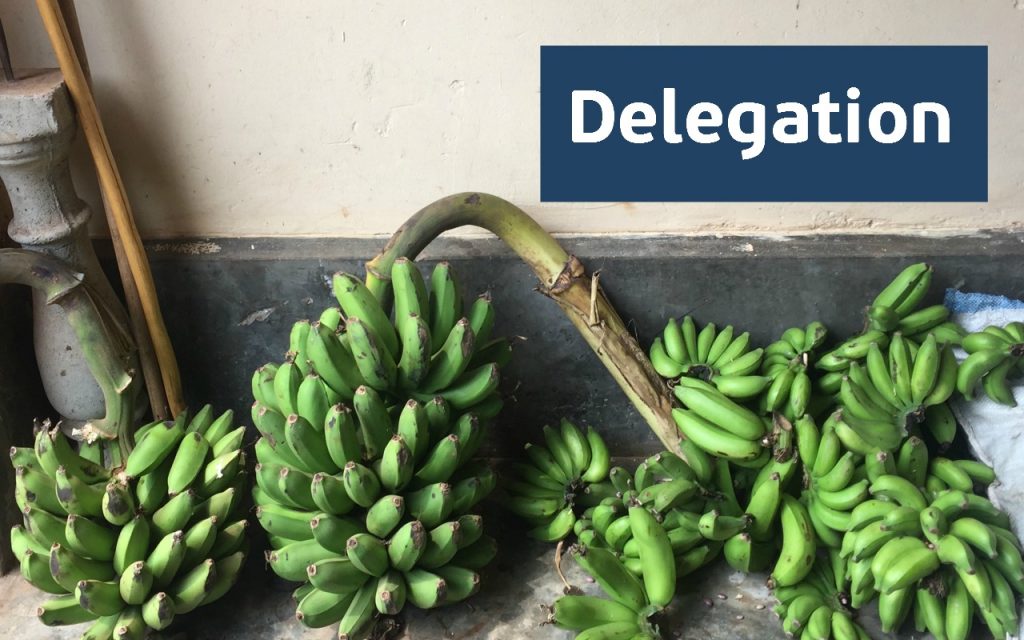 I really like matoke, a staple foodstuff in Uganda. It's made by steaming and compressing cooking bananas in nearly every home everyday. Families monitor stocks of these bananas visually and easily, to make sure you have enough and never run out.
Last month with my colleague Duncan Mutembani we delivered our flagship programme "Growing Your Leadership Edge" for the third time. As usual we had a lively debate about delegation, defining this as "passing responsibility for completion of work to other people" . We asked participants to share their thoughts about what is present when delegation is at its best.
As with other cohorts, we found monitoring to be a key and necessary part delegation at its best. It's essential to ensure your team can succeed. It's the way the results desired are attained over time, and not just stated by you or your team as an aspiration at the start.
There are many things which can be monitored by you as a leader with your team over time:
Progress on delivery of the task
The performance of the members of staff
The quality of your relationship with your team
Satisfaction of stakeholders
Bespoke indicators relevant to your goal or sector.
I'm curious, in your role as a leader, what do you find the most important factor to monitor with your team? What really makes a difference to outcomes? How easy do you find it to do?
I'm wondering if there is a gap between what we understand and know intellectually, and the action we typically take.
I have a hunch that many of us don't really feel it's OK to monitor work with our team once we have delegated.
We don't want to be seen as interfering or run the risk of bringing morale down. We are concerned it gives a negative message to our staff, indicating a lack of trust.
It seems we would rather let someone fail, and have a bigger problem to solve, than talk out loud and agree what we need to monitor from the start.
It can be easier to keep things unsaid.
Surprisingly though, regular monitoring can make delegation a more comfortable and successful process for both you and your team, allowing trust to develop.
The most important thing is to agree right from the beginning how you will monitor delivery between you and what you can expect from each other. It can feel a little strange to talk this way at first, but then it becomes your collective new normal.
And being explicit about how you will work together allows you and your team to enhance trust, feel good, stay on the front foot, be proactive and achieve results more steadily over time.
The skills needed in effective early conversations and monitoring are ones that can be learnt.
It's worth it!
I have seen monitoring as a key part of delegation produce winning bids, increase customer satisfaction, deliver exceptional service, allow early adjustment, enable team working, develop you and your staff and more.
There are many benefits from doing this early and well.
So, using levels of cooking bananas kept at home as our metaphor, what's your shortcut to remembering what to monitor in your role?
And, what visual can you create with your team, for all of you to monitor success over time?
Traditional Ugandan food – the matoke is orange and on the white plate
If this blog has prompted you to develop your delegation skills further, get in touch. A step by step checklist to consider is also available on the businessballs website here:
And if you are interested in the leadership training we are able to offer within Africa and beyond, take a look at what delegates from previous courses have to say:
"It taught me how to get results through collaboration" Ernest Rubondo, Executive Director, Petroleum Authority of Uganda.
[youtube https://www.youtube.com/watch?v=UoRDSPgKUF4?start=11&feature=oembed&w=1080&h=608]
"Learning about team development for me has been a turning point"  Joyce Wanican, Executive Director, AfriChild
Gill is passionate about developing the leadership capability of professionals in organisations to help them manage change, develop a positive culture and achieve successful business results.
The next programme of "Growing Your Leadership Edge" with SparkSync in Uganda is scheduled for November 2017.
If you would like to meet Gill for a coffee, to explore how she could contribute to your organisation's ambition and opportunity for growth, please contact her here.
The post What's Your Visual Monitor? appeared first on Gill How.
Source: Gill How